March 19, 2021 Press Release
At the 13th Polar Law Symposium, many issues and approaches identified as our future research agenda for ArCS II International Law Research Program.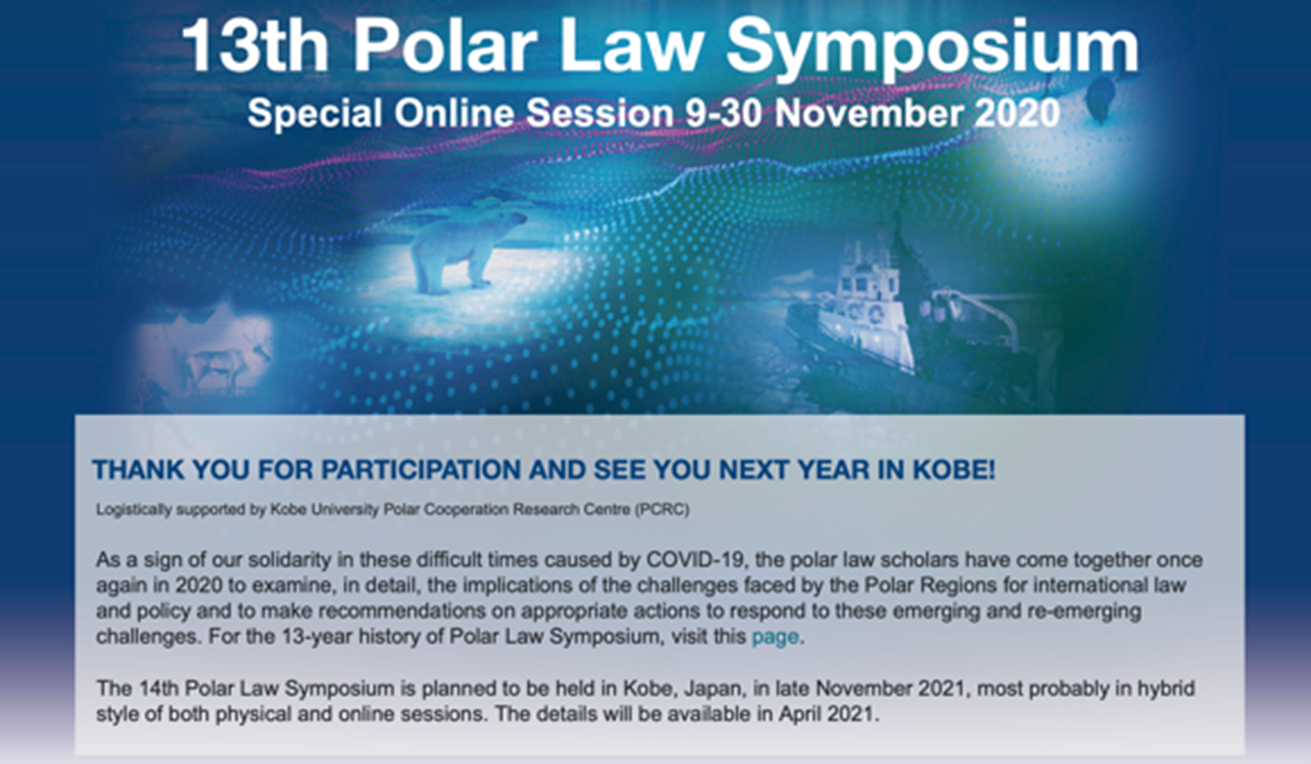 The Polar Law Symposium (PLS) is the one and only annual academic gathering specifically addressing polar legal and policy issues. For the first time in its 13-year history, PLS has come to Asia as Professor Akiho Shibata, the Principal Investigator of ArCS II Research Program on International Law (2020-25), convened its 13th Symposium from 9-30 November 2020, held entirely online due to COVID-19. 13th PLS was logistically supported by Kobe University Polar Cooperation Research Centre (PCRC), where Professor Shibata serves as its Director. The Planning Committee of the Symposium consisted of Japanese and international experts representing diverse fields, including Professor Enomoto, a glaciologist, from NIPR, who is the Project Director of ArCS II, and Professors Nishimoto and Osakada, who are the members of ArCS II International Law Research Program. The 13 PLS program from its initial planning phase incorporated the intention of the organisers in contributing also to the research agenda of ArCS II (see the final program). The PLS has a long-standing culture of encouraging the academic engagement of early-career scholars in polar law, which is shared also by the objective of ArCS II. Thus, under the funding from ArCS II and other sponsors, Kobe PCRC was able to provide fellowships to 17 early-career scholars selected based on their abstracts. The fellows assisted the Planning Committee in establishing the panels, organizing and chairing online seminars, and drafting reports. One such fellow was Dr. Kanako UZAWA, one of the very few researchers with Ainu origin and a doctoral student from UiT Arctic University of Norway, and also a research collaborator in ArCS II International Law Research Program. She made an oral presentation on "Peoples of the North: Ainu in Japan and Sami in Norway". Her research made it clear that the studies on Arctic indigenous peoples would contribute to the betterment of the life of Ainu people in Hokkaido, Japan.
Under ArCS II, an interdisciplinary approach linking natural sciences with international legal and policy studies to achieve Arctic sustainability is strongly promoted. An effort to apply such interdisciplinary methods was made in a Panel on Policy-Law-Science Nexus in Polar Regions, co-convened by Professor Shibata (international lawyer) and Professor Enomoto (glaciologist), with four online seminars under it. One seminar examined the drafting process and its institutional settings of the 2019 IPCC Special Report on the Ocean and Cryosphere,where two insiders, Professor Sandra Cassotta (lawyer) from Aalborg University, Denmark, and Professor Enomoto, presented their experiences in drafting this influential report.Through the presentations and discussion,

it has come to our knowledge that, within the legal and procedural framework, the scientific knowledge would need to be reflected in the final report maintaining a delicate balance between scientific objectivity and political considerations of the governments. Another seminar focused on the updates of the work and agenda of the Arctic Council. Under ArCS II, Japanese government and scientists try to contribute towards the Arctic sustainable development through their engagements in AC Working Groups. In this context, Dr. Gosia Smieszeck's presentation

on the recent changes in the AC work culture was particularly important. She argued that the work culture of the AC has recently been changing from original "bottom-up approach" to recent "top-down approach", between the Working Groups, science-oriented bodies at the bottom, and the Senor Arctic Officials (SAO) and Ministerial Meetings, policy-oriented bodies at the top. Professor Shibata, with two early-career scholars from China and Korea, made a joint presentation on the Arctic Science Cooperation Agreement

, and its recent practice regarding its Conference of the Parties (COP), the Agreement's implementation forum. It has come to our knowledge that we need to carefully monitor the practice under COP in order for the Asian countries and their scientists to contribute in the Agreement's implementation, taking into consideration also the needs of non-Arctic states and their scientists. Professor Kobayashi, an ArCS II International Law Research Program member, made a presentation, along with two other early-career scholars, on how scientific and technological advancements would affect the formation and interpretation of international law

applicable in the Arctic.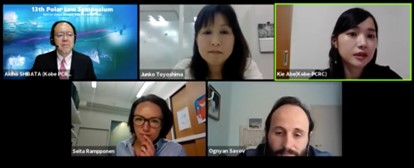 Another interesting interdisciplinary event was a live open lecture on "Plastic Arctic: How does law deal with the emerging threat of Arctic plastic pollution"

, by Dr. Seita Romppanen of Eastern Finland University. This event was co-convened by ArCS II Research Programs on International Law and Marine Sciences, the latter led by Dr. Eiji Watanabe of JAMSTEC. A discussant in the lecture was Dr. Junko Toyoshima of Ocean Policy Research Institute of Sasagawa Peace Foundation, a research collaborator in the Marine Sciences Research Program, where she introduced her recent experience in monitoring marine plastics onboard the Japanese research vessel MIRAI in October 2020. After a lively discussion among the panelists and with the floor, Kobe PCRC, led by Seninor Research Fellow, Dr. Kie Abe, decided to draft a Fact Sheet based on this lecture.
During the 13 PLS, Professor Kentaro Nishimoto of NIPR has organized three online live seminars under the Panel on the Future of Arctic Ocean Governance, with several important topics of interests also for Japanese industries and businesses, such as the regulation of the Northern Sea Routes,

, Arctic shipping, and the legal framework for Arctic Ocean governance.

Professors Makoto Seta of Yokohama City University and Yurika Ishii of National Defense Academy have made their oral presentations. Another interest for Japanese industries and businesses was a Panel on Resource Development and Indigenous Peoples in the Arctic, co-convened by Dr. Osamu Inagaki, Researcher at Kobe PCRC and Dr. Mami Furuhata, Assistant Professor at Kobe PCRC. Professor Yuko Osakada of Chukyo University has organized a Panel on Rights of Indigenous Peoples in the Arctic and held three online seminars before, during and after the Symposium. During the 5-year period of ArCS II, it is expected that International Law Research Program will hold an international workshop focusing on Arctic Ocean governance in 2022 and one focusing on Arctic indigenous peoples and sustainable development in 2023, before concluding with a wrap up international symposium in 2024. Kobe PCRC will host again the 14th Polar Law Symposium in 2021 and maintain the academic and personal connections established through 13 PLS to further elaborate the research agenda under ArCS II.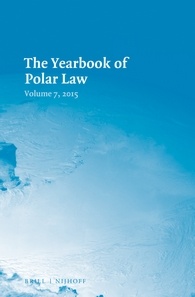 The academic presentations during the 13 PLS can be published, after rigorous peer review, in the Yearbook of Polar Law. It is expected some of the presentations made by our Japanese colleagues will be submitted to the Yearbook for possible publication. It is also important that the research outputs from ArCS II be published in well-known international journals, so as to appeal our research in the international academic circles. Professor Shibata has become a co-editor-in-chief of Yearbook of Polar Law from its 12th volume in 2020.



<Relevant Information>
Article by Mami FURUHATA, in Current Developments in Arctic Law
<https://lauda.ulapland.fi/handle/10024/64489>
Official website of the 13th Polar Law Symposium
<https://2020polarlawsymposium.org>