PCRC News
---
March 20, 2023


Two important articles by Director Shibata on Arctic governance analyzing the implications of Russia's invasion of Ukraine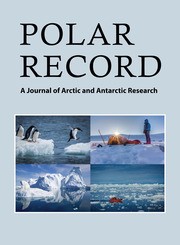 PCRC Director Shibata's two peer-reviewed papers are published, both analyzing the implications of Russian invasion of Ukraine on the Arctic scientific cooperation and the Arctic governance structures more generally. First is co-authored with Prof. Alexander Sergunin and entitled: "Implementing the 2017 Arctic Science Cooperation Agreement: Challenges and Opportunities as regards Russian and Japan", Yearbook of Polar Law, Vol.14. Second is co-authored with Prof. Timo Koivurova and is entitled: "After the Russia's invasion of Ukraine in 2022: Can we still cooperate with Russia in the Arctic?", in Polar Record, Vol. 59 (Cambridge UP). Both are open access.
---
February 10, 2023


The Rector of University of Akureyri as one of speakers at 24th PCRC International Law Seminar on March 13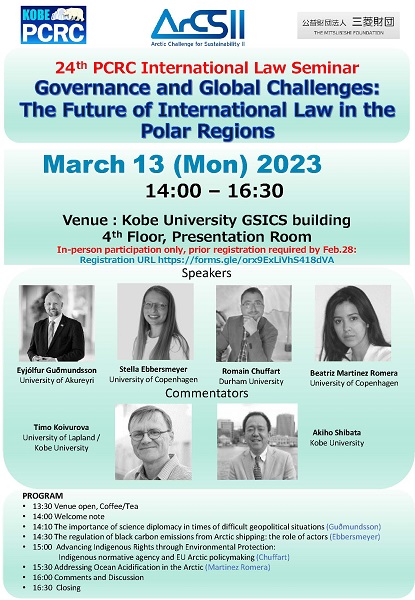 The PCRC is delighted to welcome the participation of and presentation by Dr. Eyjólfur Guðmundsson, the Rector of the University of Akureyri, Iceland, in our 24th PCRC International Law Seminar on Monday 13 March at 14:00. Under the title 'Governance and Global Challenges: The Future of International Law in the Polar Regions', an associate professor and two early-career scholars from Denmark and United Kingdom will address the role of actors in relation to Arctic shipping, the Arctic Indigenous rights, and Arctic ocean acidification. Professor Koivurova and Director Shibata will act as commentators. This seminar will only be held on-site. Please register in advance at the URL below and join at the venue. Registration is open until Tuesday, 28 February. https://forms.gle/orx9ExLiVhS418dVA
---
January 24, 2023


Welcome, Ms Ana Stella Ebbersmeyer to Kobe PCRC !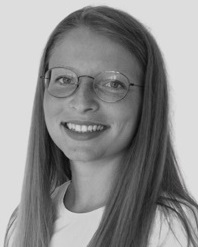 Ms Ana Stella Ebbersmeyer, PhD student at the University of Copenhagen, Denmark, will start as a visiting researcher at PCRC Kobe University on 31 January. She will conduct research the main theme of "The regulation of black carbon emissions in Arctic shipping: the role of actors "on international law and climate change. During her stay, she will present her research "The Regulation of Black Carbon Emissions in Arctic Shipping: the Role of Actors" on ISAR-7 in Tokyo and at the seminar to be organized by PCRC, Kobe University on 13 March.
---
January 13, 2023

Mr. Evan Bloom talks on United States Policy in the Arctic and Antarctic and the Future of International Governance in the Polar Regions on March 2nd.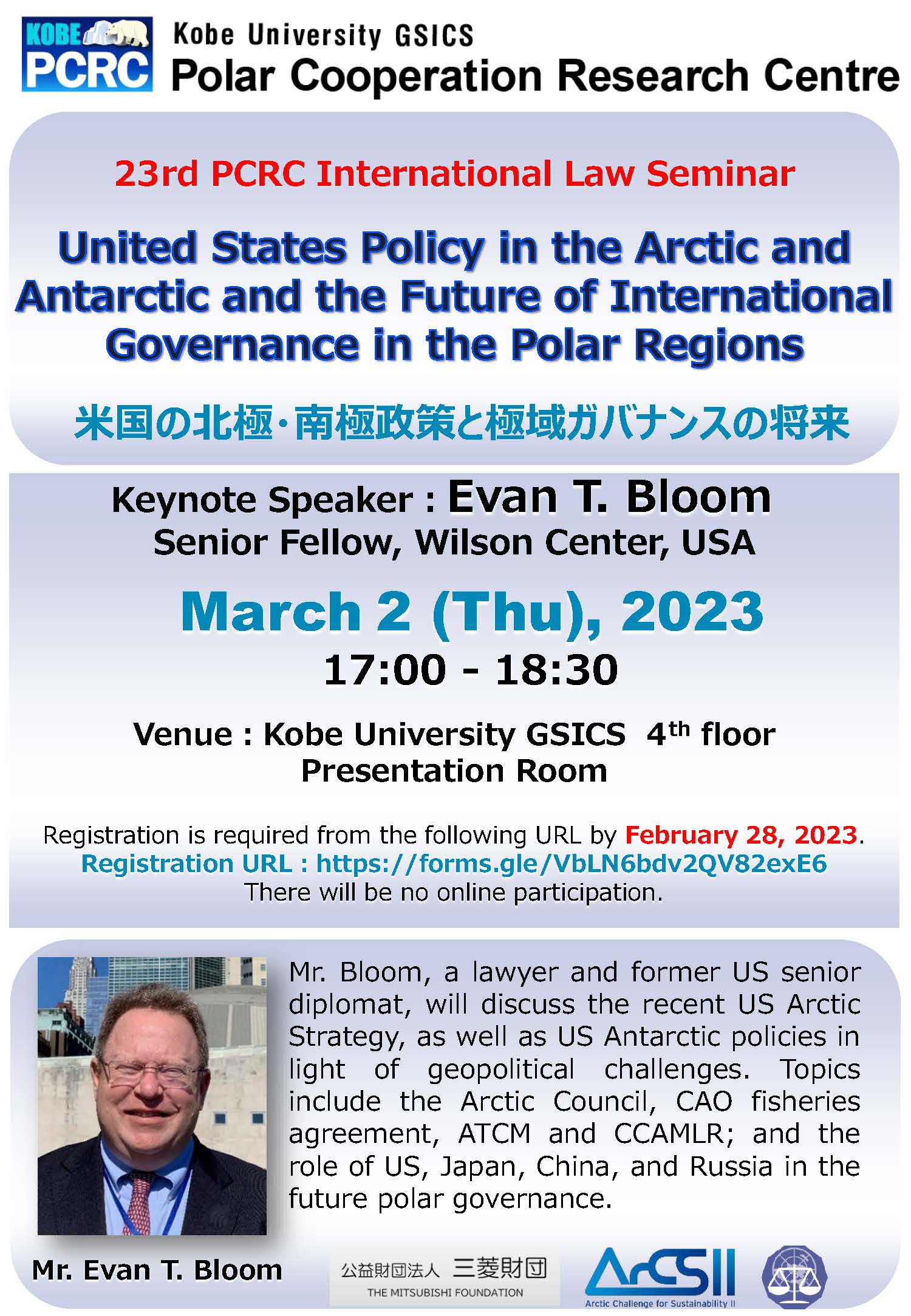 PCRC will convene an open seminar by Mr. Evan Bloom, Senior Fellow, Wilson Centre, USA and former Acting Deputy Assistant Secretary of State, on March 2nd (Thursday). This seminar will be held face-to-face at GSICS, Kobe University. Mr. Evan Bloom, as a Keynote Speaker, will discuss the recent US Arctic Strategy and the future of polar governance in light of geopolitical challenges, as well as the role of US, Japan, China and Russia. Timo Koivurova, Visiting Professor at Kobe University, will act as a discussant. Pre-registration by February 28 (extended) is requested. For the details, click the flyer.
---
January 13, 2023

PCRC Seminars on 2 March with Evan Bloom and 13 March at Kobe University, with Call for Abstracts
(deadline extended:10 February)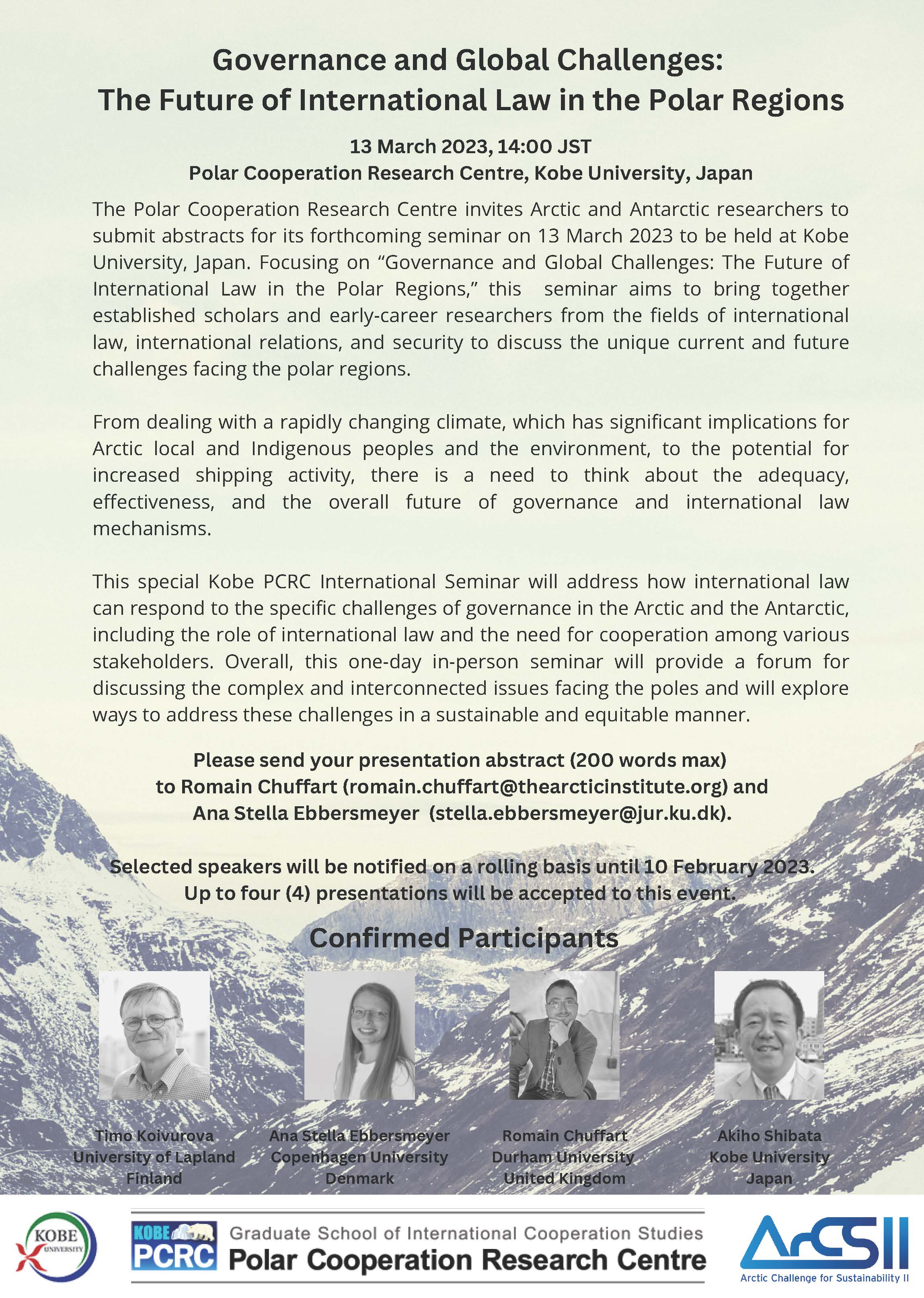 In conjunction with several Arctic international events being held in Tokyo (Arctic Circle Japan Forum, 4-6 March, and ISAR-7, 6-10 March), PCRC plans to convene publicly open, in-person international seminars on 2 March (Thursday) with Mr. Evan Bloom at Wilson Center, USA, as a keynote speaker, and on 13 March (Monday), both at Kobe University, Kobe, Japan. For the 13 March seminar on "Governance and Global Challenges: The Future of International Law in the Polar Regions", PCRC is inviting polar researchers to submit abstracts by 10 February. This seminar aims to bring together established scholars and early-career researchers from the fields of international law, international relations, and security to discuss the unique current and future challenges facing both the Arctic and Antarctic regions. For the details, click the flyer.
---
November 22, 2022

International Symposium "The Future of Antarctic Cooperation and Global Geopolitical Challenges" with Prof. Rothwell as keynote speaker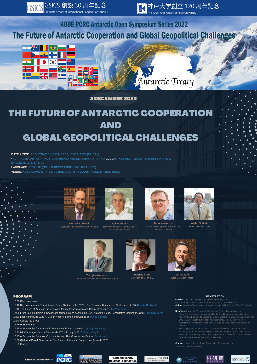 PCRC will hold an Antarctic Open Symposium "The Future of Antarctic Cooperation and Global Geopolitical Challenges" on December 2, as the second series of publicly open symposia on Antarctic governance and scientific cooperation. Professor Donald Rothwell of the Australian National University will be the keynote speaker, followed by Professor Joji Morishita (Tokyo University of Marine Science and Technology), Professor Timo Koivurova (University of Lapland, Finland/Kobe University) and PCRC Director Akiho Shibata. The speakers will discuss the challenges and future of the Antarctic Treaty System (ATS) in a panel discussion with Dr. Takuji Nakamura, Professor Patrizia Vigni, and Research Fellow Dr. Zia Madani. The symposium will be conducted entirely in English, and online participation is possible. Registration by 1 December from the symposium website.
---
Last updated March 20, 2023