March 24, 2021 Press Release
ArCS II International Law Research Program published its first Briefing Paper Series on Arctic marine plastic problems.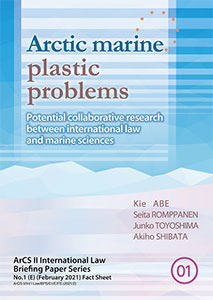 Under ArCS II project, it is expected that our research outputs be responding to the societal needs. As one means to respond to such expectation, the Research Program on International Law decided to publish its "Briefing Paper Series (BPS)" on topical issues of Arctic international legal and policy interests, their main readers being Arctic stakeholders and general public, so as to feed our research results into the related public debates. The Series is published in either Japanese or English and consists of the following three categories:
Policy Briefs try to provide the policy-makers with a concise summary of relevant information and/or policy options on Arctic issues.
Fact Sheets try to provide the stakeholders and general public with accurate account of factual situations and/or international legal and policy developments on Arctic issues.
Research Briefs try to provide the academic communities and the general public with an easy-to-read summary of research undertaken under the ArCS II International Law Research Program.
The first and second volumes of our BPS are Fact Sheets and entitled: "Arctic marine plastic problems: Potential collaborative research between international law and marine sciences", in English (No.1) and Japanese (No.2). By clicking the picture, you can download the original document in PDF (1.2 MB).
In March 2021, the Icelandic government convened International Symposium on Plastics in the Arctic and the Sub-Arctic Regions

. Iceland as the Chair of the Arctic Council, the 12th Ministerial Meeting of the Arctic Council in May 2021

is expected to address the Arctic plastic pollution as urgent issue requiring stronger cooperation not only amongst the Arctic State members but also with the non-Arctic States observers, including Japan, in order to achieve Arctic sustainable development. In such a timely occasion, in responding to the needs of international community, it is significant that this Fact Sheet is published both in English and Japanese as a result of interdisciplinary collaborative research undertaken by Research Programs on International Law (PI: Akiho Shibata of Kobe University) and on Ocean (PI: Eiji Watanabe of JAMSTEC) under ArCS II.
The summary of the Fact Sheet on "Arctic marine plastic problems" is as follows:
With a focus on microplastics, this Fact Sheet summarises recent advances in scientific research revealing the potential deleterious effects of ever-increasing concentrations and accumulation of microplastics in the marine environment, and the recognition of the Arctic Ocean as a marine plastic pollution hotspot where plastics in the world' s oceans would eventually accumulate.
In response to these scientific findings and acknowledging the fact that no specific international legal instruments exist that comprehensively address the modern challenges of marine plastic pollution, this Fact Sheet identities relevant international legal instruments, concepts, tools, and precedents that will assist the design of future legal governance to address the emerging threat of marine microplastic pollution in the Arctic Ocean.
This Fact Sheet is based on academic presentations given during the 13th Polar Law Symposium in November 2020 and on further elaborations through collaborative research undertaken by the Research Programs on International Law and Ocean under the ArCS II project and the Ocean Policy Research Institute.
Authors:
Kie ABE
is Senior Research Fellow at Kobe PCRC (Nov. 2020-Feb. 2021). LL.D. Kyoto University (2020). Her major research interests are in the fields of sources of international law and international environmental law.
Seita ROMPPANEN
is Senior Lecturer in International Environmental Law at the University of Eastern Finland Climate Change, Energy and Environmental Law (CCEEL). Her key research interests are in the field of EU climate and environmental law.
Junko TOYOSHIMA
is Research Fellow at Ocean Policy Research Institute of the Sasakawa Peace Foundation. She works in the areas of coastal ecosystem management, biodiversity conservation, blue economy, marine plastic debris, and Arctic research.
Akiho SHIBATA
is Professor of International Law and Director, Polar Cooperation Research Centre (PCRC), Kobe University. He is the Principal Investigator of the ArCS II Research Program on Designing Resilient International Legal Regimes for a Sustainable Arctic.
<Relevant Information>
Official website of the 13th Polar Law Symposium
< https://2020polarlawsymposium.org

>
ArCS II Research Programs on International Law and Ocean
<https://www.nipr.ac.jp/arcs2/e/goals/

>