September 5, 2022 Press Release
A report on Enhancing Arctic International Scientific Cooperation is published, co-authored by ArCS II early career researchers.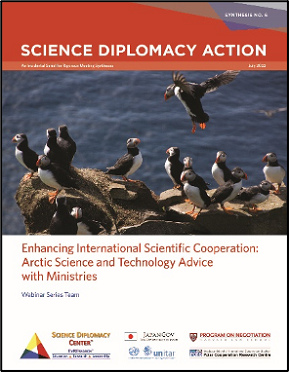 The Synthesis on "Enhancing International Scientific Cooperation: Arctic Science and Technology Advice with Ministries" is published. This publication is the outcome of the February-March 2022 webinar series on the same title, funded by the Ministry of Foreign Affairs of Japan, coordination and logistics provided by the United Nations Institute for Training and Research (UNITAR), with collaboration of Harvard Law School and Kobe University under the ArCS II program. This report is co-authored by three early-career scholars from ArCS II research programs on international law (Dr. Osamu Inagaki and Dr. Zia Madani, Kobe University) and human society (Mr. Jugo Sato, Tohoku University). The report is open access.
The synthesis of the three-webinar series involved keynote presentations and discussions from leaders of the International Arctic Science Committee (IASC), International Arctic Social Sciences Association (IASSA) and University of the Arctic (UArctic) as well as from ASM1 (2016), ASM2 (2018), ASM3 (2021) and ASM4 (2023 pending). Professor Hiroyuki Enomoto, Project Director of ArCS II, was among such keynote presenters.
The transdisciplinary dialogues as the cornerstone of this synthesis depict the significance of international cooperation and common-interest building while highlights the significance of scientific cooperation among Arctic states and non-Arctic states to build common interests, especially for nations to balance their national interests in manner that prevents or diminishes conflict. In this sense, scientific cooperation is fundamental to ensure the sustainable development of the Arctic, which is a common Arctic issue among all Arctic states and Indigenous Peoples' Organizations. It also is important that people around the world understand that the Arctic is connected with their lives via e.g. climate, rather than as a remote and isolated area.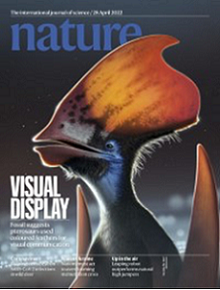 This publication is inclusive in many ways including mainly that it involved various participants from various parts of the world as well as Arctic states, Indigenous communities, and many non-Arctic states who would be new to the Arctic Council or the ASM process. It demonstrates that inclusiveness is a key element for enhancing international Arctic scientific cooperation. Additionally, it sheds light on international efforts and processes that are crucial to facilitate progress in understanding the Arctic system and its global impacts. Delving into the issues of education, scientific data integration and funding schemes, the synthesis examines whether the present collaborative research mechanisms are adequate and further how the enhanced science cooperation in the Arctic could impact other areas of international affairs. The gist of this argument is concisely summarised in a correspondence published in Nature (April 28, 2022), co-authored by Professor Akiho Shibata, Principal Investigator of ArCS II International Law Research Program.
The synthesis which is co-authored by 15 scholars from across the globe is devoted to the visions about the paths forward for the Arctic collaborative research under the increased geopolitical tensions and the pressing environmental problems. It highlights that Arctic Council remains as an important high-level forum to enhance international scientific cooperation in the Arctic with globally-relevant lessons, both helpful with inclusion and harmful with exclusion, accentuating the precarious 'pause' among the eight Arctic states without Russia following the invasion of Ukraine. The Arctic Council working groups are pivotal in view of enhancing international scientific cooperation, particularly in the key areas of climate change and environment, integrating natural and social sciences with Indigenous knowledge. It is crucial to build research and action capacities with Arctic residents, including Indigenous communities, recognizing local knowledge is essential to be resilient in the changing environments of the Arctic and elsewhere on Earth.
<Relevant Information>
■ The synthesis is available open access at:
<https://scidiplo.org/wp-content/uploads/2022/08/Science-Diplomacy-Action_Synthesis-6_Webinar-Series-Enhancing-International-Scientific-Cooperation_31JUL22-4.pdf

>
■ Webinar Series Website with YouTube videos:
<https://unitar.org/sustainable-development-goals/multilateral-diplomacy/our-portfolio/enhancing-international-scientific-cooperation-arctic-science-and-technology-advice-ministries

>
■ Nature correspondence:
<https://www.nature.com/articles/d41586-022-01105-3

>