iWMK 2018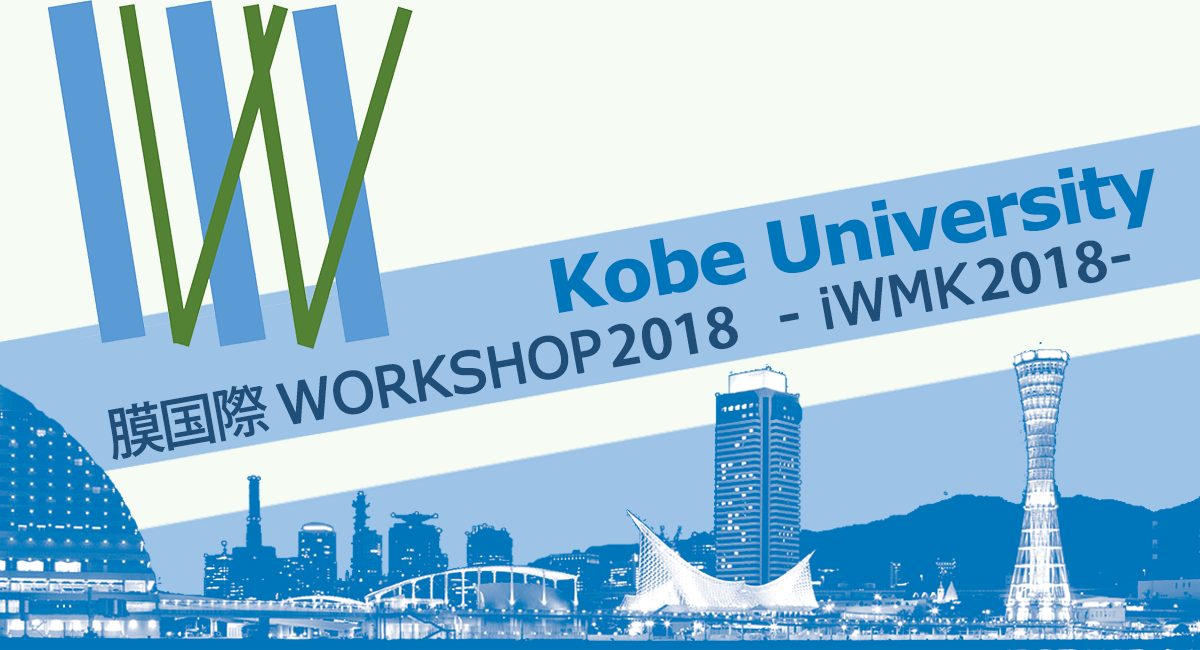 Date:

November 26 (15:30~18:30), November 27 (9:30~20:30)
======================================================
Photos uploaded:
https://1drv.ms/f/s!AttuVZD_QuL-szVyCDemm8ZOgF7P
======================================================
The International Workshop on Membrane in Kobe (iWMK) is an annual event hosted by the Center for Membrane and Film Technology, Kobe University (MaFTech center), with the aim at academic exchanges and discussions on today's advanced membrane research and technology.
The iWMK2018 is a 2 day event and will be held at 2 campuses of Kobe University. On Nov 26 we have special invited lecture and student presentation session at Kobe University's Rokkodai campus. On Nov 27, 11 universities from 9 different countries will give presentations on their recent research achivements at Kobe University's Integrated Research Center. We believe the iWMK2018 will not only provide a wide spectrum of exchanges on today's membrane research, also a great learning opportunity for students as well as a diverse networking place for academia and industry.
At iWMK2018, we are greatly honored to host 11 overseas universities and institutes as the follows.
Chung Yuan University (Taiwan)
Hong Kong University of Science and Technology (Hong Kong)
Institut Européen des Membranes (France)
Nanjing Tech University (China)
Tianjin Polytechnic University (China)
Tsinghua University (China)
Universiti Teknologi of Malaysia (Malaysia)
University of Technology Sydney (Australia)
Victoria University (Australia)
Zhejiang University (China)
Kobe University (Japan)
Program
11月26日——
16:00~17:30
Featured Lecture1
In situ preparation of novel nano-enhanced membranes: sustainable membranes for water filtration
Katholieke Universiteit Leuven
Prof. Bart Van Der BRUGGEN
17:30~18:30
Students' Poster Presentation
11月27日——
9:30~ 9:35
Featured Lecture
In situ preparation of novel nano-enhanced membranes: sustainable membranes for water filtration
Director of the Center for Membrane and Film Technology Prof. Hideto MATSUYAMA
9:35~10:10
Presentation 1
R&D center for membrane technology in Taiwan :
Specific Topic – Design of Zwitterionic Membranes
Hydrophilic/oleophobic, hydrophobic/oleophilic and switchable wetting properties PVDF membranes for improving the gravity-driven or low pressure-driven separation of oil and water
Chung Yuan University (Taiwan)
Prof. Yung CHANG
Prof. Antoine VENAULT
10:10~10:45
Presentation 2

Treatment of refractory pollutants by catalytic membrane reactor

Hong Kong University of Science and Technology (Hong Kong)

Prof. King Lun YEUNG

10:45~11:20
Presentation 3

Understand the membrane fouling to build single molecule sensing using nanopore

Institut Européen des Membranes (France)

Prof. Sébastien BALME

11:20~11:55
Presentation 4

Ceramic-supported Composite Membranes: Fundamental Study and Engineering Application

Nanjing Tech University (China)

Prof. Wanqin JIN

11:55~13:30
Lunch
13:30~14:05
Presentation 5

Simultaneous improvement in permeability, antifouling and antibacterial properties of PES/SPSf/GO mixed matrix membranes with a low content of GO

Surface Engineering of Thin Film Composite Polyamide Membranes for Antifouling Properties

Tianjin Polytechnic University (China)

Prof. Jianxin LI Prof. Yunxia HU

14:05~14:40
Presentation 6

Understanding thermally induced (solid-liquid or liquid-liquid) phase separation

Tsinghua University (China)

Prof. Xiaolin WANG

14:40~15:15
Presentation 7

Innovative Hybrid Hollow Fiber Membrane for Gas Separation

Development of Ceramic Hollow Fiber Membrane Incorporated with Porous Material for Water Purification

Universiti Tecknologi Malaysia (Malaysia)

Prof. Ahmad Fauzi ISMAIL

Dr. Mukhlis Ab RAHMAN

15:15~15:45
Coffee Break
15:45~16:20
Presentation 8

Membrane technologies for resource recovery

Membrane technologies for resource recovery

University of Technology, Sydney (Australia)

Prof. Ho Kyong SHON

16:20~16:55
Presentation 9

Film formation process of battery electrode during drying

Kobe University (Japan)

Prof. Yoshiyuki KOMODA

16:55~17:30
Presentation 10

Treatment of pulp and paper wastewaters

Victoria University (Australia)

Prof. Stephen GRAY

17:30~18:05
Presentation 11

Design, fabrication, and properties of nanofiltration membrane

Zhejiang University (China)

Prof. Baoku ZHU

18:05~18:40
Presentation 12

Recent research activities at Membrane center in Kobe university

Kobe University (Japan)

Prof. Hideto MATSUYAMA

18:40~18:45
Closing Ceremony
Kobe University (Japan)

Prof. Tomohisa YOSHIOKA

18:45~20:30
Banquet